Concerning the problem of deleting private messages, I just created a brand new forum on one of my domains and the error wasn't present. Over the weekend, I will try something, but it will require me to shut down the forum. I will try to do this at a less problematic time for you guys. I'll keep you posted but if the forum isn't available, it is because I am working on it.
---
---
Go Izzy Heavy barrel or go home.

---
---
Posts: 98
Joined: Thu Jul 19, 2018 2:23 pm
Heavy barrel is a pain to drag around,too heavy.
The Aussie looks real cool and Izzy or Belgian is nice but do you really want to lug it around or just look at it?
Inch pattern with wood on Eden receiver(unless you can afford a Poyer or Onyx) or Belgian folder 50.63 or 50.61 is what you should try for.Or do a build and use a gear logo imbel receiver.Get a new barrel and if it is head spaced right it will be very accurate.
---
Posts: 95
Joined: Fri Jul 20, 2018 3:28 pm
Location: Sarasota
That's easy, get both, that's what I did.

---
Or an Imbel kit on an Imbel receiver. Back in the day you could get a mint #'s matching Dan's Imbel kit for $250, & a gear logo Imbel receiver for $125. As good as factory built. GARY
---
Yes, I know this thread is a year old
However I am curious as to what Gary actually bought.
I am partial to the G3 platform and have had my G3k for several decades so far.

One of the cool things is that there is a HK sub-caliber kit available at a fairly reasonable price and my niece was able to practice with a 22LR machine gun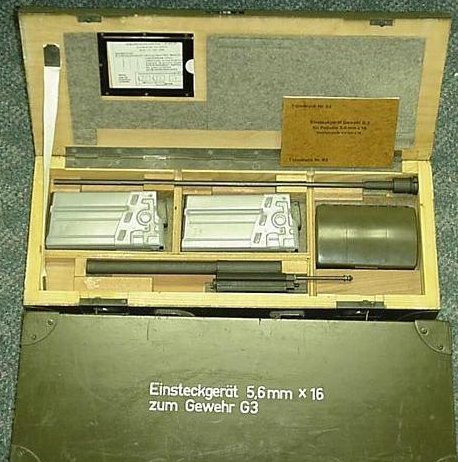 ---
Posts: 511
Joined: Wed Jul 18, 2018 4:40 pm
Location: Spring Hill, Hernando County
Very Nice.
I've been thinking about a poor man's G3K ( Non-NFA , standard G3 wide handguard on a G3A4 with barrel cut down and an extended 3-lug permanently attached to get it to 16.1)
---